History of the GrN Sierra Cosworth RS to RS500;

The car was never fitted with a sunroof, which is very rare. This indicates the RS was from the beginning a racecar as it is now.
There was an original RS500 bumper, RS500 spare engine block and RS500 cylinder head with the car, when we bought the car.
The first owner was Rauymond Raus. He bought the car new by Euromoters in Luxemburg to do group N races in Belgium.
.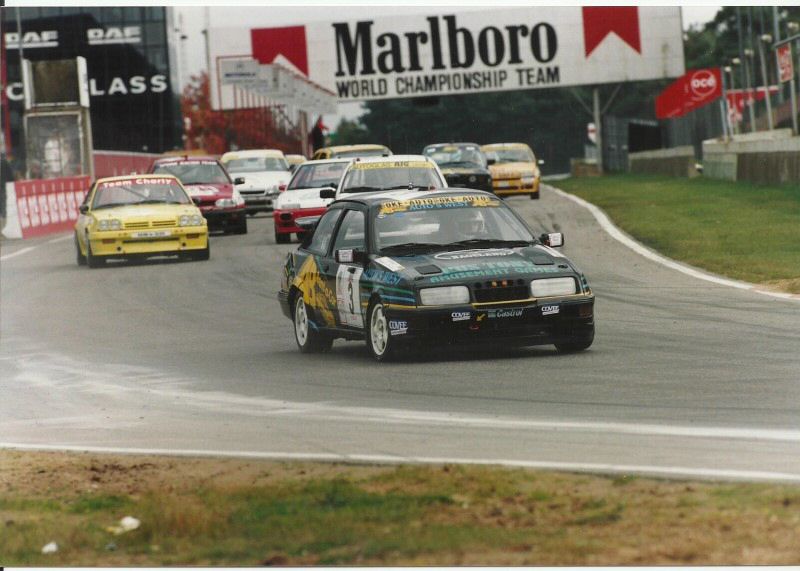 Klick for pictures
Raymond told me that the engine had maximum possible boost and engines last for one or 2 races.
But Euromotors had plenty engines in stock and manpower to change engines even in race weekends.
Jan van Uytsel, FORD RS dealer in the 90ies, bought the car from Raus and rent the car to gentlemen drivers.
The car was then raced from 1993 till 2003 in 4hour endurance races in Belgium with 2 or 3 pilots on the car per race.
Drivers (and owners) were
JP Baudart
Marc Voussure
Alain Ronchail
Xavier Moermans

Alain Ronchail is a Ford dealer and Ford collector of Escort MK1 rallycars.
Alain Ronchail bought this Sierra Cosworth from Jan van Uytsel. Alain raced the car first in group N trim in endurance races. And later he bought Group A suspension and brakes parts from the Dutch Rally-pilot Jan van de Marel.
This explains why the car has the rally group A suspension. The car was then very success full in the endurance races. With almost a victory in the 10hour race of Zolder.